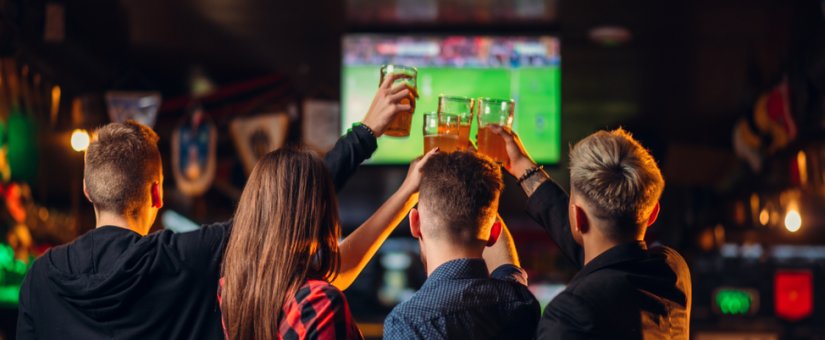 YOUR BRAIN ON SPORTS: WHY WATCHING THE GAME IS GOOD FOR YOU
That stereotype of a sports fan doesn't hold much water when you back it with some good old fashioned scientific scrutiny. In fact, research shows that watching the game might actually help sharpen that brain of yours. By observing athletes at the top of their game playing in adrenaline-pumping scenarios, our brain lights up like a slot machine, even learning a new thing or two. So how exactly does all this happen?
Get in the Game
Next time your wife comes into the room to tell you that sometimes it seems like you pay more attention to the game than to her, you can let her know that your mirror neurons, located on the right side of the brain, are simply firing off because you've made a connection with one of the athletes on your television set.
Go ahead, tell her. Chances are she won't take that as an appropriate answer, but that doesn't mean it's any less true. As you observe an athlete's movements and playing style, your brain more or less puts you in the athlete's shoes, making you more invested in the game. This kind of observation can even transfer over to your next pickup game at the gym, so keep your eye on the ball.
Fandemonium
When you're watching a game with a group, there's an undeniable connection between fans of the same team. When a whole group of people all have their mirror neurons firing, they're all feeling one good feeling altogether. This bonds them all together and their brain feels a sense of community. See how it brings everyone together. What the world needs now is more sports, clearly.
But then Again…
There is one drawback to letting your brain get caught up in the game like this: your heart will follow too. Ordinarily, this isn't a bad thing at all, it's only natural to assume emotions would get tied up in the game. That's exactly why we here at Cheetah have taken it upon ourselves to give you all the unfiltered action of every pro sports game while also keeping you completely at ease. With our smoking hot, fully nude babes offering full friction for you and your team, you'll remember that it doesn't matter if you win or lose, it's how you watch the game. Game on!