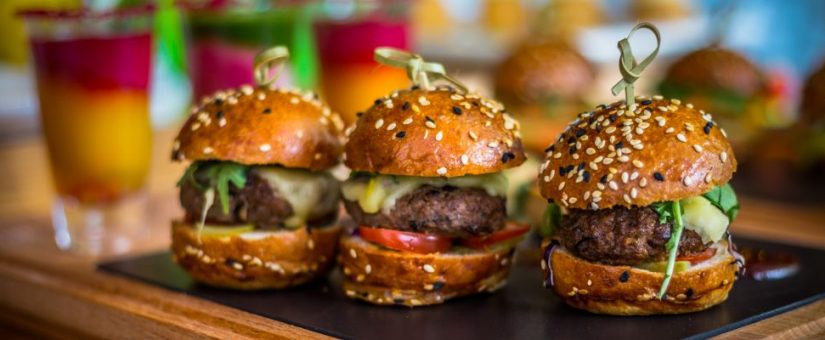 WE HAVE THE BEST LUNCH IN HALLANDALE, POMPANO & WEST PALM BEACH!
It's 12 o' clock, you have an hour for lunch, and no idea where to go. From now on, skip the fast food drive-thru because the hottest lunchtime spot is Cheetah's Gentlemen's club, with three convenient locations — and it's completely free from 11:30am to 3pm!
You know a gentlemen's club can cater to one type of hunger, but Cheetah has so much more to offer, including a fully stacked lunch menu. Whether you're looking for a quick bite to eat or a place to relax and have some afternoon delight with your friends, Cheetah is the place to stop for your next midday meal. Our three locations have unique and diverse food (and girls) to suit every taste.
REALLY Enjoy Your Lunch Break
If you're in Pompano Beach for lunch, stop by Cheetah and experience some of the best food in town. For those looking for lighter fare, try one of our premium salads. Our Pompano Beach location has an incredible Caesar salad that's delicious on its own or mixed with chicken.
For something a little heartier, try our savory meatball parmesan sandwich, topped with marinara and melted mozzarella, or a bowl of our chicken wings served mild, medium or hot
Our Hallandale Beach location is the go-to spot for any sports fanatic. Cheetah in Hallandale comes equipped with a state-of-the-art sports lounge with over 40 HDTVs, so you won't miss a single moment of your favorite game while you're out to lunch. Take a load off in our genuine leather couches, or get in a lap dance while you wait for your order. Hallandale's Cheetah will help you transform your lunch hour.
Our Sweets Provide Afternoon Delight
If you're in the mood for sweets, Cheetah in West Palm Beach is the place to be. After a couple of cocktails and our World Famous Cheetah Burger, make sure you save room for some of our savory desserts. Order a slice of our delectable strawberry shortcake, or treat yourself to a brownie sundae. Or lighten up your meal with one of our assorted fruit and cheese platters. Cheetah in West Palm Beach will give you the sweetest afternoon you've ever had.
Of course, we know you're not just coming for the food. Our Cheetah Fantasy Girls are here to help you elevate your lunch hour from a mandatory break to a welcome distraction from your 9 to 5. With four stages and two levels, you'll have plenty of options to satisfy your hunger pangs. There's also free WiFi available at all of our locations, in case you want to mix your business and pleasure. We have a full liquor and beer menu so that you can add one of our specialty cocktails as part of your midday routine.
Come Say Hi in Broward and Palm Beach Counties
Don't subject yourself to another endless debate on where to go to lunch one day longer. There's only one place in town where you can get the best lunch (for FREE), quality drinks and spend your time with the most beautiful girls in Florida. Keep last nights leftovers at home, and head over to Cheetah for a hot meal, cold drink, sweet dessert, and even sweeter dining companions. We have all the amenities to make sure you get the most out of your lunch break, from HDTVs lining the walls, to comfy leather couches so you can put your feet up and relax in style.